Fire Style: Dragon Flame Bomb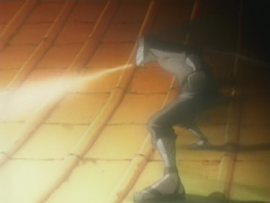 Data
Classification: Ninjutsu
Type: Fire Style
Rank: B-Rank
Class: Offensive
Range: Short to Mid Range
Hand Sign(s): Ram - Horse - Snake - Dragon - Rat - Ox - Tiger
User(s):
Hiruzen Sarutobi
The user kneads chakra into flames, which are then manipulated into a genuine-looking dragon. Since the art of having the flames obey the user's will is outrageously difficult, its mastery is restricted to a limited number of skilful shinobi. The spat out flames are divided to launch a left side, right side, and frontal assault in all three directions at once, turning the enemy into ash in a matter of seconds.
Ad blocker interference detected!
Wikia is a free-to-use site that makes money from advertising. We have a modified experience for viewers using ad blockers

Wikia is not accessible if you've made further modifications. Remove the custom ad blocker rule(s) and the page will load as expected.