Gaara
Title: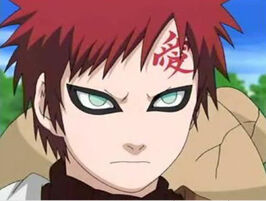 Gaara of the Desert,
Godaime Kazekage,
Jinchuriki of the One-Tailed Shukaku,
Jinchuriki Gaara
Eye Color: Light Green
Hair Color: Red
Race:
Human, Jinchuriki
Ninja Rank:
Shippuden: Kage
Classification:
B-Rank (Current)
Zanpakuto:
Shikai: Sunaryu (Sand Dragon)
Bankai: Unknown
Family:
Fourth Kazekage (Father)
Karura (Mother)
Yashamaru (Deceased) (Uncle)
Temari (Older Sister)
Kankuro (Older Brother)
Enemie(s): Orochimaru, Fourth Kazekage
Rival(s): Tsunaku Senju, Sasuke Uchiha
Partner(s): Temari, Kankuro, Baki, Naruto Uzumaki, Rock Lee, Tsunaku Senju, Suigetsu Hozuki, Karin, Kaname Hoshigaki
Homeworld:
Ninja World
Hometown:
Chakra Nature:
Wind Style (Semi)
Age:
Kaipuden: 12/13
Shippuden: 15/16/17
Zanpuden: 25/26/27
Previous Team(s): None
Team(s): Team Baki
Gender: Male
Status: Alive
First Appearance:
Gaara is a Genin shinobi of Sunagakure, the son of the Fourth Kazekage and Karura, the nephew of Yashamaru, the younger brother of Temari and Kankuro, and the third Jinchuriki of the One-Tailed Shukaku.
Appearance
History
Jutsu
Powers & Abilities
Original Plot
Plot - Part I - Kaipuden
Ad blocker interference detected!
Wikia is a free-to-use site that makes money from advertising. We have a modified experience for viewers using ad blockers

Wikia is not accessible if you've made further modifications. Remove the custom ad blocker rule(s) and the page will load as expected.