Great Toad Sage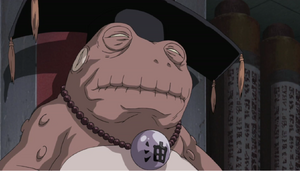 Title(s):
Great Honorable Geezer,
Giant Grandpa Sage
Eye Color: Yellow
Hair Color: None
Race:
Toad
Ninja Rank:
Kaipuden: Sage
Classification:
Zanpakuto:
Shikai: Unknown
Family:
Unknown
Partner(s): Everyone in Mount Myoboku, Jiraiya, Naruto Uzumaki
Rival(s): Unknown
Enemie(s): Those who harms the Inhabitants of Mount Myoboku
Homeworld:
Ninja World
Hometown:
Mount Myoboku
Unknown
Age:
Kaipuden: 986/987
Shippuden: 999/1000/1001
Team(s): Unknown
Gender: Male
Status: Alive
First Appearance:
The Great Toad Sage is the oldest and most respected toad of all the inhabitants of Mount Myōboku. Because of his age, the other toads affectionately call him Great Honorable Geezer. He is famed for his highly accurate prophecies.
Appearance
History
When Jiraiya was training at Mount Myōboku, the Toad Sage made a prophecy concerning him: Firstly, that he would go on to become both a talented ninja, and a pervert without equal. Jiraiya would walk across the world as a sage, "observing all creation, watching as nature takes its course," and in doing so he would also write a book. Jiraiya was also told that he would one day have a student with the power to save or destroy the world, and that it would be Jiraiya's actions that will determine which path this student takes.
Jutsu
Powers & Abilities
Plot I - Part I - Kaipuden
Ad blocker interference detected!
Wikia is a free-to-use site that makes money from advertising. We have a modified experience for viewers using ad blockers

Wikia is not accessible if you've made further modifications. Remove the custom ad blocker rule(s) and the page will load as expected.