Izuna Uchiha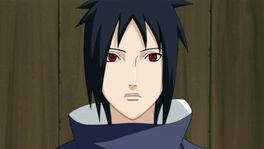 Title:
Eye Color: Black
Normal or Mangekyo Sharingan: Red and Black
Hair Color: Indigo Blue
Race:
Ninja Rank:
None
Classification:
Zanpakuto:
Shikai: Unknown
Bankai: Unknown
Family:
Madara Uchiha (Older Brother)
Hikachi Uchiha (Deceased) (Lover)
Sosuke Uchiha (Deceased) (Son)
Unknown Grandson (Deceased)
Fugaku Uchiha (Great Grandson)
Mikoto Uchiha (Great Granddaughter-in-Law)
Itachi Uchiha (Great Great Grandson)
Sasuke Uchiha (Great Great Grandson)
Samoto Uchiha (Great Great Granddaughter)
Enemie(s): Madara Uchiha (Temporarily)
Rival(s): Tobirama Senju
Partner(s):
Izuna Uchiha was the younger brother of Madara Uchiha, he was renowned as one of the strongest members of the Uchiha Clan, the lover of Hikachi Uchiha, and the father of Sosuke Uchiha.
Appearance
History
Jutsu
Powers & Abilities
Plot - Part I - Kaipuden
Ad blocker interference detected!
Wikia is a free-to-use site that makes money from advertising. We have a modified experience for viewers using ad blockers

Wikia is not accessible if you've made further modifications. Remove the custom ad blocker rule(s) and the page will load as expected.