Jugo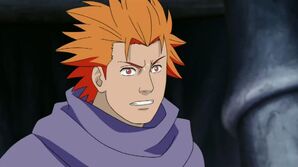 Title(s):
Bipolar Jugo,
Sage in Training
Eye Color: Red Orange
Hair Color: Orange
Race:
Ninja Rank:
Kaipuden: Genin
Shippuden: Jonin
Classification:
Zanpakuto:
Shikai: Unknown
Bankai: None
Family:
Unknown
Enemie(s): Orochimaru,
Rival(s): Suigetsu Hozuki
Partner(s): Tsunaku Senju, Suigetsu Hozuki, Karin, Naruto Uzumaki, Konohamaru Sarutobi, Hanabi Huyga, Kimimaro
Homeworld:
Ninja World
Hometown:
Chakra Nature:
Unknown
Age:
Kaipuden: 14/15
Shippuden: 17/18/19
Team(s): Squad One
Gender: Male
Status: Alive
Story/Saga First Appearance:
After Mizuki Strikes Back Saga
Jugo is a former suborniate and test subject of Orochimaru, (due to Tsunaku's Jinchuriki powers freeing him from his rage and the Curse Mark), formerly from Otogakure, he become recruit to Team Tsunaku (real squad name Team Tsubaki), the sage apprentice of Jiraiya and becomes a Genin from Konohagakure.
Appearance
History
Jugo's personality is usually quiet and unassuming, but, when angered (or the awakening of his Hollowfication), those around him stand little chance of survival. One time, he even became so angry that he destroyed an entire village. This has caused others to label him as the "Bipolar", where anything could tip the balance. Cursing his existence, he took to secluding himself in caves, hoping to bring no one any harm. This lasted until Kimimaro came to him, who was himself the last remnant of the Kaguya Clan. Following Kimimaro, Jugo allowed himself to be one of Orochimaru's test subjects. Upon examination, Orochimaru was able to isolate enzymes in Jūgo's blood that caused him to transform. By extracting these enzymes, Orochimaru was able to use them to produce similar, but more controlled, effects in other people, leading to the creation of the Curse Mark. As time passed, Kimimaro died, and Jūgo shut himself away once more.
Jutsu
Powers & Abilities
Plot - Part I - Kaipuden
First Konoha Recruition Filler Saga
Search for Sayoko, Fumito, and Tsuraiko Saga
Second Chunin Exam Saga