Konan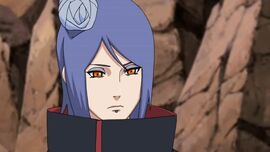 Title:

Angel
Eye Color: Amber Orange
Hair Color: Light Blue
Race: Human
Birth: February 20, 1965
Death: 2003 (Shippuden)
Ninja Rank: Jonin, S-Rank
Shippuden: Village Leader
Zanpakuto:
Shikai: Unknown
Bankai: None Currently
Family:
Nobu (Father; Deceased)
Akane (Mother; Deceased)
Samoto Uchiha (Adoptive Daughter)
Enemie(s): Konohagkure, Danzo Shimura, Hanzo
Rival(s): Unknown
Partner(s): Nagato, Samoto Uchiha
Homeworld:
Ninja World
Hometown:
Chakra Nature:
Unknown
Age:
Kaipuden: 25/26
Shippuden: 28/29/30
Zanpuden: 38/39/40
Team(s): Ame Ophans, Akatsuki
Gender: Female
Status: Alive
First Appearance:
Konan is the first kunoichi of the Akatsuki, the partner of Nagato, being the only member to call him by his name (along with Samoto), the co-leader of Amegakure and the adoptive mother of Samoto Uchiha.
Appearance
she wear a akatsuki
History
Jutsu
Powers & Abilities
Original Plot
Plot - Part I - Kaipuden
Ad blocker interference detected!
Wikia is a free-to-use site that makes money from advertising. We have a modified experience for viewers using ad blockers

Wikia is not accessible if you've made further modifications. Remove the custom ad blocker rule(s) and the page will load as expected.