Onami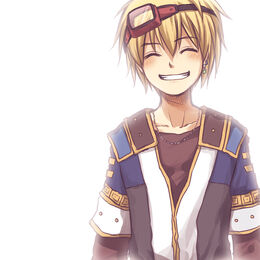 Title:
Yellow Twilight of the Stone,
Onami Namikaze,
Child of the Prophecy,
Eye Color: Blue
Hair Color: Blonde
Race:
Ninja Rank/Soul Reaper Rank:
Shippuden: Jonin
Zanpakuto:
Shikai: Zenchi (Omni Earth)
Bankai: Unknown
Tenkai: None
Family:
Fourth Tsuchikage (Father)
Kyochi Namikaze (Deceased) (Mother) (Incarnation)
Biwa (Aunt)
Kitsuchi (Uncle)
Onoki (Grandfather)
Mirotaki Namikaze (Deceased) (Grandmother) (Incarnation)
Kurotsuchi (Cousin)
Uriwami (Cousin)
Partner(s): Rasoki Senju, Uriwami
Homeworld:
Hometown:
Kekkei Tota:
Age:
Kaipuden: 0/8/9
Shippuden: 11/12/13
Zanpuden: 21/22/23
Team: Team Two (Iwa)
Onami is a genin-level ninja of Iwagakure, a member of the Namikaze Clan, the son of Katsuku, the Fourth Tsuchikage and Kyochi Namikaze, the cousin of Uriwami and Kurotsuchi, the grandson of Onoki, the Thrid Tsuchikage, and Mirotaki Namikaze, and the Jinchuriki of the Seven-Tailed Dragonfly.
Appearance
History
Jutsu
Powers & Abilities
Plot - Part I - Kaipuden
Ad blocker interference detected!
Wikia is a free-to-use site that makes money from advertising. We have a modified experience for viewers using ad blockers

Wikia is not accessible if you've made further modifications. Remove the custom ad blocker rule(s) and the page will load as expected.