Shino Aburame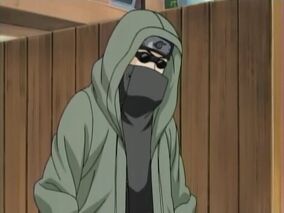 Title(s)
Eye Color: Possibly Black
Hair Color: Black
Race:
Human, Aburame Clan
Ninja Rank:
Kaipuden: Genin
Clasification:
C-Rank
Zanpakuto:
Shikai: Unknown
Family:
Parent(s):
Shibi Aburame (Father)
Enemie(s): Orochimaru, Higure, Akatsuki
Rival(s): Kankuro
Partner(s): Hinata Hyuga, Kiba Inuzuka, Kurenai Yuhi, Sasuke Uchiha
Homeworld:
Ninja World
Hometown:
Konohagakure
Chakra Nature:
Unknown
Age:
Kaipuden: 12/13
Shippuden: 15/16/17
Pre-Zanpuden: 18/23
Team(s):
Kaipuden: Team Kurenai
Gender: Male
Status: Alive
First Appearance:
Shino Aburame is a genin-level shinobi of Konohagakure, a member of the Aburame Clan, and a member of Team Kurenai.
Appearance
History
Jutsu
Powers & Abilities
Original Plot
Plot - Part I - Kaipuden
Ad blocker interference detected!
Wikia is a free-to-use site that makes money from advertising. We have a modified experience for viewers using ad blockers

Wikia is not accessible if you've made further modifications. Remove the custom ad blocker rule(s) and the page will load as expected.