Takara Uchiha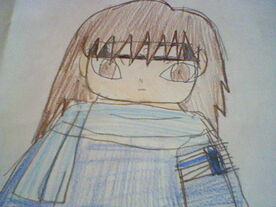 Title(s):
Master of the Sharingan,
Takara the Vicious
Eye Color: Brown
Normal or Mangekyo Sharingan: Red and Black
Hair Color: Brown
Race:
Ninja Rank:
Classification:
Zanpakuto:
Shikai: Unknown
Bankai: Unknown
Family:
Takeshi Uchiha (Deceased) (Son)
Yukiyo Senju (Granddaughter)
Jashiko Senju (Grandson)
Enemie(s): Madara Uchiha
Rival(s): Tobirama Senju, Kumogakure
Partner(s): Uchiha Clan, Hashirama Senju, Hanaku Senju, Rushi Uzumaki
Homeworld:
Hometown:
Sharingan, (Master)
Mangekyo Sharingan, (Master)
Inferno Style, (Master)
Infeno Style (Kekkei Genkai) (Master)
Fire Style (Master)
Age:
Unknown
Team(s): Unknown
Gender: Male
Status: Deceased
First Appearance:
Takara Uchiha was an S-Rank shinobi during the era of the First Hokage and Second Hokage, a member of the Uchiha Clan, the father of Takeshi Uchiha, and the grandfather of Yukiyo and Jashiko Senju
Appearance
History
Dojutsu, Kekkei Genkai, Tailed Beast Skill, - Biju Sharingan
Powers & Abilities
Plot - Part I - Kaipuden
Ad blocker interference detected!
Wikia is a free-to-use site that makes money from advertising. We have a modified experience for viewers using ad blockers

Wikia is not accessible if you've made further modifications. Remove the custom ad blocker rule(s) and the page will load as expected.