Uryu Ishida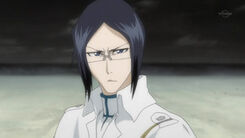 Title:


The Last of the Quincies
Eye Color:Blue
Hair Color:Raven Black
Race:
Quincy
Ranks:
None
Qunicy Weapons:
Qunicy Bow & Arrows
Family:
Ryuken Ishida (Father)
Mrs. Ishida (Pressumed Decreased) (Mother)
Soken Ishida (Decreased) (Grandfather)
Previous Partner:Soken Ishida
Partner:Ichigo Kurosaki,Orihime Inoue,Yasutora Sado/Chad,Tatsuki Arisawa, Shikamaru Nara,Inzuru Kira,Shino Aburame, Shunsui Kyoraku
Base of Operation:Karakura Town, Uryu's House, Team Karakura Town Base
Age:Part 1:12-13 Part 2:15-16 Part 3:25-26
Previous Team:None
Team:Team Karakura Town,Shunsui's Smart Team
Gender:Male
Status:Active and Alive

Maritual Status:Part 1:Single Part 2:Single-Dating Nemu Part 3:Married Nemu
Uryu Ishida is a Quincy from Karakura Town, the son of Ryuken Ishida, the grandfather of Soken Ishida, and the classmate, rival, and friend of Ichigo Kurosaki.
Appearance
History
Powers & Abilities
Original Plot
Plot - Part 1 - Tsunaku
Ad blocker interference detected!
Wikia is a free-to-use site that makes money from advertising. We have a modified experience for viewers using ad blockers

Wikia is not accessible if you've made further modifications. Remove the custom ad blocker rule(s) and the page will load as expected.