Water Prison Jutsu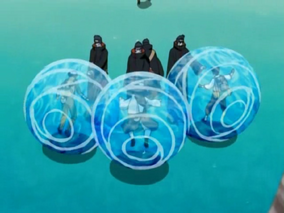 Data:
Classification: Ninjutsu
Type: Water Style
Rank: C-Rank
Class: Supplementary
Range: Short Range
Hand Sign(s): Snake - Ram - Horse - Hare - Ram - Horse - Hare - Hands spread in front palms out
User(s):
Zabuza Momochi,
Kisame Hoshigaki,
Suigetsu Hozuki
This jutsu is used to trap a victim inside a virtually inescapable sphere of water. The only downside to this technique is that the user must keep at least one arm inside the sphere at all times in order for the victim to remain imprisoned. This jutsu requires a sufficient amount of water, which can be provided by expelling it from one's mouth. Despite the fact that the prison is made up entirely out of water, it is stronger than steel as stated by Zabuza Momochi. Once trapped the target is unable to move while within it due to the heaviness of the water. Because of the density of the water it can be used, to a limited extent, for defensive purposes if performed on oneself.
Overview
Water clones can be used in preparation for the jutsu, which block an opponent's attack and trap the attacker in the prison using the clone's own water. Neji Hyuga was able to use his ability to release chakra from all of his chakra points simultaneously to disrupt the flow of chakra and break the prison. It can also be stored in scrolls as traps.
Ad blocker interference detected!
Wikia is a free-to-use site that makes money from advertising. We have a modified experience for viewers using ad blockers

Wikia is not accessible if you've made further modifications. Remove the custom ad blocker rule(s) and the page will load as expected.