Water Style: Waterfall Basin Jutsu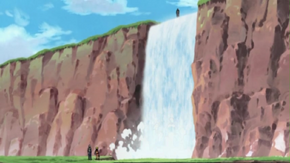 Data
Classification: Ninjutsu
Type: Water Style
Rank: C-Rank
Class: Offensive, Supplementary
Range: All Ranges
Hand Sign(s): Boar - Dog - Ram
User(s):
Yamato
This is a jutsu which creates a waterfall by developing spring water in a place without water veins and manipulating the resulting water current to form a wave. This is a very convenient technique as it can be used for training or relaxation. On the other hand, because it changes the environment on a large scale, it also has the effect of hiding one's location from the enemy by confusing them. The width of the water source, waterfall, and basin can be expended, as long as the user continues to send chakra in.
Ad blocker interference detected!
Wikia is a free-to-use site that makes money from advertising. We have a modified experience for viewers using ad blockers

Wikia is not accessible if you've made further modifications. Remove the custom ad blocker rule(s) and the page will load as expected.