Zabuza Momochi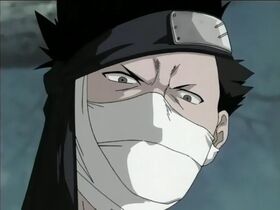 Title:


Demon of the Hidden Mist
Eye Color: Brown

Hair Color: Black
Race:
Ninja Rank:

Kaipuden: Rogue Ninja
Zanpakuto:

Shikai: Kubikiri (Executinor's Blade) (Formerly)

Bankai: Unknown
Family:

Unknown
Enemie(s): Kakashi Hatake, Naruto Uzumaki, Sasuke Uchiha, Sakura Haruno, Yagura
Rival(s): Kakashi Hatake, Seven Swordsmen of the Hidden Mist, Kisame Hoshigaki, Raiga Kurotsuki
Partner(s): Haku, Naruto Uzumaki (Temporarily), Mangetsu Hozuki, Suigetsu Hozuki
Homeworld:
Hometown:
Chakra Nature:

Water Style (Master)
Age:

Kaipuden: 26/27
Gender: Male

Status: Deceased
First Appearance:
Zabuza Momochi, also known as the Demon of the Hidden Mist, was a rogue ninja of Kirigakure, a member of the Seven Swordsmen of the Hidden Mist, and the first antagonist that Naruto Uzumaki faced against in the original plot.
Appearance
History
Jutsu
Powers & Abilities
Original Plot
Plot - Part I - Kaipuden
Ad blocker interference detected!
Wikia is a free-to-use site that makes money from advertising. We have a modified experience for viewers using ad blockers

Wikia is not accessible if you've made further modifications. Remove the custom ad blocker rule(s) and the page will load as expected.